On Monday the 21st October, the GMB along with other trade unions protested outside the Central Bedfordshire College against the proposal to cease Trade Union Studies Courses. These courses have exisited at the college for many, many years and have educated shop stewards of all trade unions.
Trade Union Studies at Central Bedfordshire have been serving the local community and the wider region for over a quarter of a century. This underestimated resource has magnificently produced two generations of stewards and trade union activists wo have gone on, not only to serve working people but also take a lead within the Labour movement.
Now CBC says this profitable department no longer has a place within its curriculum. This is at a time when National Trade  Union leader Frances O'Grady has noted an increase in Trade Union membership, especially among young people.
Now is NOT the time to be cutting this department, its the time to be EXPANDING Trade Union Studies at CBC!
JOIN the GMB today and support your trade union in saying NO to this detremental proposal.
Below we have our Regional Officer,  Steve Sweeney (Left) and our Political Officer, Warren Kenny (Right) supporting the protest.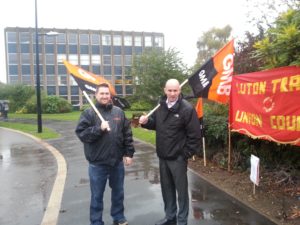 Please see our other pictures in our Gallery
Posted: 25th October 2013